Frankfurt – a short introduction!
Frankfurt am Main is a world-class financial and services centre set in the heart of the Rhein Main region.
It is one of Europe's top company locations where the big world banks nestle next to the cosy cider &Ebbelwoi" pubs. The Frankfurt skyline has given rise to the nick name "Mainhatten" and down-town Frankfurt has everything one expects from an international city. From fantastic shops in every price range to excellent restaurants from all over the world. Frankfurt has something for everyone.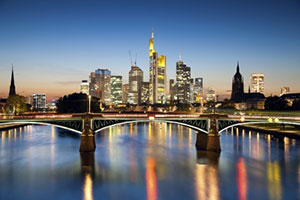 Frankfurt is not only a financial centre but also a very old city steeped in history. From the home of Johan Wolfgang von Goethe, to the Paulskirche and the Kaiserdome (cathederal) there are many historical sights worth seeing. The restored Opera house is truly worth a visit as are the 13 museums built along one side of the river Main.
One in three inhabitants of Frankfurt does not have a German passport and people from very diverse cultures live along side each other in peace and harmony reflecting the liberal and democratic nature of the Frankfurt society.
If you are a newcomer to Frankfurt and you are looking for the best language school to help you master the difficult German language you need look no further. Our excellent staff of German teachers will soon have you chatting away just contact us directly for your personal quote. [email protected]