University of London Examinations
University of London Examinations - International Programmes

Candidates can sit University of London exams at our premises in Bad Homburg.
In order to do so, you must first visit the University of London website and download a copy of the "Examination Entry Form"
This form must be fully completed, (please also state the date and duration of exam), signed and sent to ILSF (post or scanned) at [email protected]
The schedule for most of the exams can be seen at the following link – the times given apply to Germany too. For example, if the exam time is 10:00 – 13:00, then the exam will take place from 10:00 – 13:00 local time in Germany.
http://www.londoninternational.ac.uk/community-support-resources/current-students/examinations/exam-timetables/exam-timetables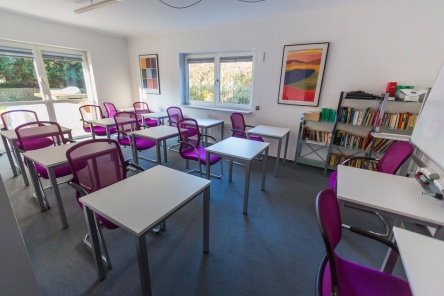 We charge €50 (VAT free) for every hour and part thereof for invigilating and dealing with the administration. Please calculate the amount due to us and pay by either of these methods immediately, clearly stating your name and reference:
International Language School IBAN: DE58 5005 0201 0200 2816 90
BIC: HELADEF1822
Paypal at [email protected]
Please note centre fees will not be reimbursed.
Once we have received payment we will enter a Validation Code on your Examination Entry Form, sign it, and return it to you. With the Validation Code you can then proceed to go on-line and register yourself for the exams you wish to take.
Our exact address is as follows:
International Language School GmbH
Kaiser-Friedrich-Promenade 153A
Bad Homburg vor der Höhe D-61352
06172 678930
International Language School is easily reached by public transport RMV:
| Line | Station |
| --- | --- |
| S 5 | Bad Homburg / Friedrichsdorf Bad Homburg Bahnhof |
| U2 | Bad Homburg – Gonzenheim Gonzenheim - Last station |
We are about a ten-minute walk from either station. The Gonzenheim station is slightly closer.
There is ample parking on the street if you are coming by car.
If you require accommodation, Hotel Johannisberg in Bad Homburg is nearby and affordable.
http://www.hotel-johannisberg.net/kontakt.html
On the day of the examination, please arrive at least 30 minutes prior to the start of the exam.
Remember to take along your ID and your Admission Notice to each examination. Your Admission Notice has been forwarded to you via your Student Portal.
Please bring ONLY those items necessary to write your examination(s). Food and drink are NOT permitted, except for water in a clear container.
Should you have any questions relating to the actual exam day or centre fee payment please contact us directly. Otherwise, please contact the University.
In the meantime, good luck with your studies and we look forward to welcoming you to our premises!