Oxford Test of English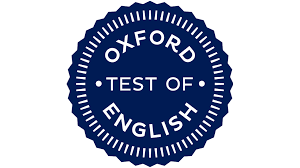 Your English Certificate: Oxford Test of English
Use the language certificate from Oxford
The Oxford Test of English is a multi-level general English test that assesses the ability to understand and communicate effectively in English at three CEFR levels: B2, B1, and A2.
The exam is of interest for (prospective) university students as well as professionals planning to study or work abroad. A growing number of universities, educational institutions and organisations around the world accept the Oxford Test of English as a proof of English language proficiencies. A list of all institutions who recognise the respective certificates can be found here.
The test covers all four skills: Speaking, Listening, Reading, and Writing.
The Reading and Listening modules are adaptive, meaning the test adjusts the difficulty of the questions based on the participant's answers, making the test more motivating, shorter, and a more accurate measure than traditional speaking tests.
The "Speaking" and "Writing" modules use random task generation, making each test a unique experience.
The outline of the Oxford Test of English
Speaking – about 15 minutes for 15 questions
Listening – about 30 minutes for 20 questions
Reading – 35 minutes for 22 questions
Writing – 45 minutes for 2 questions
Fee: € 150
Dates: flexible – Please contact us!-
Examination location: ELOQUIA GmbH, Kaiserstr. 10, D-60311 Frankfurt/Main