Examination Invigilation
ILSF works together with many different universities and professional bodies worldwide to provide opportunities for their students to sit examinations in Germany.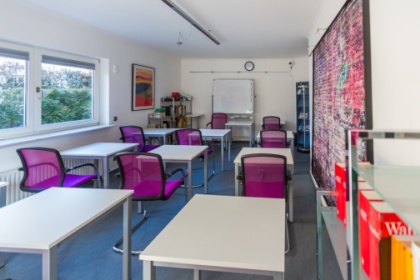 Amongst the universities and institutions we cater for are:
University of London
icsa – The Governance Institute
ICAEW – CISI
University of Leicester
The University of Warwick
Birbeck – University of London
University of Southern Queensland
If the university of your choice does not appear on this list, please contact us for further information, as we are regularly adding new institutions.
Where is ILSF?
We are located very centrally, within easy reach of Frankfurt am Main.
International Language School GmbH
Kaiser-Friedrich-Promenade 153A
Bad Homburg vor der Höhe D-61352
06172 678930
International Language School is easily reached by public transport RMV:
| Line | Station |
| --- | --- |
| S 5 | Bad Homburg / Friedrichsdorf Bad Homburg Bahnhof |
| U2 | Bad Homburg – Gonzenheim Gonzenheim - Last station |
We are about a ten-minute walk from either station. The Gonzenheim station is slightly closer.
There is ample parking on the street if you are coming by car.
How much will it cost?
This varies from institution to institution. Some universities and other examining institutions meet the costs of external venues from the fees they charge you. Others have a different pricing structure and expect you to meet these costs yourself. Please check this with your examination board.
If you do have to meet the costs yourself and if you already know the number of papers you wish to sit and the duration of each paper, simply e-mail us at [email protected] for a precise quotation. Otherwise, ask for an up-to-date overview listing our fees and conditions.
Dates of your examinations are decided by your examining board. Facilities at ILSF are available throughout the year, including Saturdays and local public holidays.

If you are sitting University of London – International Programmes examinations please click here.